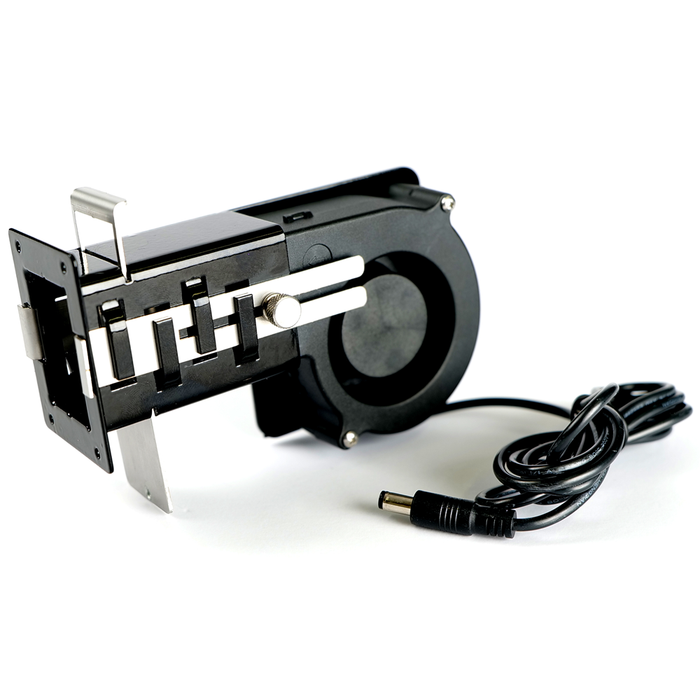 Drive Blower 20CFM
Original price
$88.00
-
Original price
$88.00
NEW! FireBoard's new fan design allows easy mounting/switching of adapters.
Watch our introduction video here!
Variable Speed 20 CFM Blower used with FireBoard Drive to maintain precise temperature control.
Description
Powerful blower that can be installed on many smokers using included adapter plates. Built-in sliding damper to fine tune airflow.
Small/Medium Adapter Plate: 2.75 x 1.97″ (70 x 50mm)
Large/XL Adapter Plate: 3.43 x 3.03″ (87 x 77mm)
Specifications:
Variable Speed, powered by FireBoard's internal battery **
Power source: 12 VDC, 0.68A, 8W (not included)
Cable length: 4.5 ft (1.4 m).
Power connector: 2.5 mm barrel plug
Blower maximum flow rating: 20 CFM
Blower opening: 1.2 x 1.6″ (30 x 40 mm).
Flange outer dimension: 1.95 x 2.45″ (49 x 62 mm).
Flange mounting hole distance: 1.32 x 2.05″ 34 x 52 mm, hole size, 3 mm in diameter.
Note: Blower does NOT include Drive Fan Control Cable, which is needed to use a fan with the FireBoard 2 or FBX11. FireBoard 2 Drive/Pro models will power fan directly, no Drive Fan Control Cable necessary.
Installation tips and more information is available on our Knowledge Base.
Please review the specifications and measure your cooker's vent size to determine compatibility. View a compatibility chart for some models here.